Enjoy the best design and functions combined together
For over 80 years, R. Kaller & Sons Contractors has maintained and restored the area's finest homes and landmarks. We specialize in slate, clay tile, wood shake and asphalt shingles; as well as new gutter, cornice and metal roof restoration, chimney work, and today's technology of high-performance flat roof materials and systems.
Our crews are experts in roofing, custom sheet metal fabrication, carpentry, gutters, chimney repair, and masonry repair.
Let the expert roofers from Kaller take care of your every roofing need and help design, build, and install the right roof.
More than just a roofing company, Kaller Roofing also provides a variety of expert carpentry services.
As chimney experts, we specialize in all kinds of chimneys and exterior chimney services.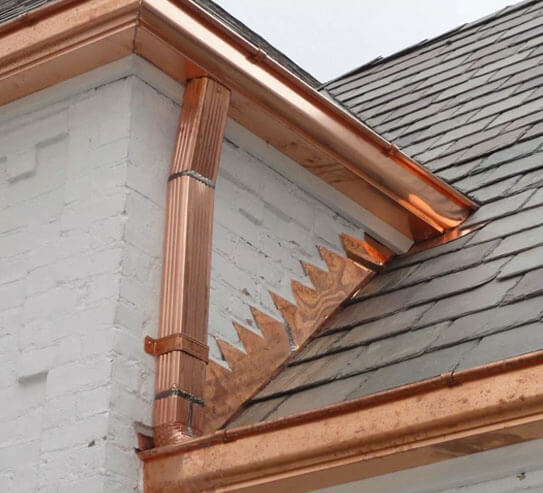 We are experts at installing a wide variety of gutters. We offer the highest quality built-in gutters, pole gutters, copper gutters, aluminum gutters, and downspouts.
Our Quality Craftsmanship
Kaller Roofing rebuilt our fiberglass roof deck that was leaking in multiple places. They provided expert guidance leading up to the job, and did impeccable work. The crew were very professional, and the owner himself checked in multiple times to assure quality. Our new roof deck is not only more functional, but looks much better and will be a great space for years to come.
Excellent workmanship, high professionalism in the entire crew, especially the foreman, Mike Austin. They were prompt, kept us apprised of the progress, excellent site cleanup at the end of each day, and upon job completion. Beautiful result. Will recommend to others. This is the second time Kaller has roofed our house, our experience 30 years ago brought us back this time.
Fine work. A great team. The guys (Rich, Carlos, Jake and Justin) were conscientious, professional and talented. It was a large job from a home owners view and they handled it well with an attention to detail. Hats off to Chuck and Ray also for their supervision and support. This twin is 120 years old and with care like this it can go another 120 years.
The roofers explained everything beforehand and were very prompt each day. They appeared to be very knowledgeable. We had a very bad experience with another roofing company and Keller was certainly much more professional and trustworthy. We will definitely use Keller again if we need a roofer.
I am the facilities manager of a large church in Greenville, Delaware. Kaller Roofing has been our roofing partner for over five years, and I highly recommend them. Ray Kaller is a skilled and experienced diagnostician, which I think is the most important part of the process of getting to a solution. The members of his team are also highly experienced and easy to work with. Give them a call!
Our home's slate roof and ice damaged gutters were in need of professional help. An exhausting search lead us to Kaller and Sons. Chuck made the whole process painless while Rich and Carlos's high level craftsmanship along with quality materials yielded amazing results. We couldn't be happier. Thank you gentlemen.
<!—-><!—->
<!—->
<!—->
<!—->
<!—-><!—->
<!—->
<!—->
Roof damage may come in any form – leaks, mold, cracks, and even holes. While we may not notice our roofing too often, a small leakage will make sure to get your attention. But did you know that there are ways to prevent the damage and […]
<!—-><!—->
<!—->
<!—->
<!—->
<!—-><!—->
<!—->
<!—->
It goes without saying that the roof of your home is critical to your comfort. After all, it covers your most expensive asset – your house. But, having a roof over your head (literally) depends on how important you take roof maintenance. Here, we are going […]
<!—-><!—->
<!—->
<!—->
<!—->
<!—-><!—->
<!—->
<!—->
A porch not only adds beauty and value to your home, it is also a nice outdoor space for you to relax or spend quality time with your family and friends. Since the porch is on the outer side of the house, it is essential to […]